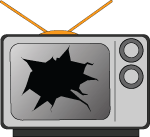 Submitted for your approval, the first 52 song project song is a pop rock tune called After the fall. As will become our pattern over the next year, we will first present the song to stream or download (along with this charming custom icon!) for free. Then, below, talk about it a bit.
Song

After the fall [3:29m]:
Play Now
|
Play in Popup
|
Download
Discussion
CHRIS: The main reason we chose to start with this song (of the 3 or 4 we've already got in the hopper) is that it's upbeat and (we hope!) catchy. Kinda like how when you're exposed to a new artist, the first song you're likely to hear is their strongest radio single.
STEVE: Yeah, kinda like Justin Bieber.
CHRIS: I hate you. This is going horribly already.
STEVE: Horribly indeed! One of the neat things about collaborating on songs is working with each other to make suggestions in the production phase. Chris wrote this one, but I take great pride in adding the "aahs" in the chorus. I did want "baahs" instead, and there was heated debate, but we think you will like the end result.
CHRIS: Or, more seriously, I wanted only one, thin "ahhh" and you added more of a vocal pad thing, and I think it enhances the song a lot in the end. We also tried to get some drums working with this, but had to learn the hard way that we hadn't recorded the other parts "tight" enough for the drums to work. Moral: record drums first, become better guitar player.
STEVE: Another thing that's interesting about starting with this song is that Chris wrote it on his own, whereas next week we'll feature a song I wrote.
CHRIS: Yeah, so we get to start the project off with two examples of each of our writing styles.
STEVE: And so the fun begins! Listen, enjoy, share! The beauty of 52 song project is that you get to interact, comment and even influence our direction as we start the year.
CHRIS: The beauty is also that you get to read corn-ball commentary like that from Steve here.
STEVE: I want the last word.
CHRIS: Word.
Lyrics
Now you're drinking me up like gasoline
And you're rubbing me 'til I've got a sheen
You know I won't last too long
You've got a bubble and it's about to burst
You think it's yours but I know I saw it first
And I'm not feeling all that strong
I'll meet you after the fall
On the other side of the wall
When we find out the revolution…
I'll meet you after the fall
On the other side of the wall
When we find out the revolution will be televised after all
Now we've crossed that fine line
When the finish line meets your life line
Cuz your credit line never could last all that long
And if you wanna take it back, want to undo it all
Just like we never met, just like I never called
Just like you never heard this song, then…
I'll meet you after the fall
On the other side of the wall
When we find out the revolution…
I'll meet you after the fall
On the other side of the wall
When we find out the revolution will be televised after all
Credits
Chris Tindal: Acoustic guitar, lead vocals, backing vocals
Steve Salt: Acoustic guitar, backing vocals
Words and music: Chris Tindal
Illustration: Claire Salloum
Produced by Steve Salt and Chris Tindal
Tweet