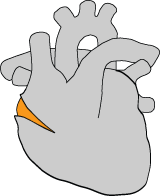 Yes folks, we're at song number three already. (Isn't it fun to have something to look forward to on Fridays? Before this project, did anyone ever even enjoy Fridays?) This week, an emo-inspired power-chorus rock song with some massive percussion and, lyrically, a Vertical Horizon type of twist ending. Some more of our comments, the lyrics, and the credits after the player.
Song

Pre-broken [2:56m]:
Play Now
|
Play in Popup
|
Download
Discussion
CHRIS: This was actually recorded and mixed before either After the fall or Surf, and right up until the last moment we were planning to release it as the first song. Ultimately we decided not to because we didn't want to kick things off with its pained, heartbroken tone. I really like how it turned out, though. I recorded the guitar and vocals and then Steve, separately, added the booming bass drum and gong in the chorus. Makes it sound really big and devastating.
STEVE: Again, nice to be working at a school with a music department. Taking a look around, I decided that the gong was the most appropriate thing to use, of course. This is one of my favourite Chris-written tunes.
CHRIS: Thank you sir. I'm pretty happy with it, though there are some sloppy bits in the recording (rhythm entering the second verse). One of the casualties of doing this once a week. We only ever do a take or two of each part before moving on.
STEVE: Perhaps we should pick some of our (listeners') favourite songs over the year, produce them more professionally and release an album at the end of the year?
CHRIS: Shhhh! No spoilers!
STEVE: Moving on… I am a big fan of the driving guitar in the chorus, and the big energy contrast from the first verse into the chorus.
CHRIS: Hope you guys like it!
STEVE: Word.
Lyrics
You're telling me that it's done,
that we're over now
And I flash back to a time
When our love was on fire
On fire
I said I needed you back
That I can't live with out
You looked me straight in the eye
And you called me a liar
A liar
I collapse
You stand strong
How is this so easy for you?
Can't you see that you are smokin'?
How is this so easy for you?
Maybe your heart came pre-broken.

I've never heard words so cruel
I've never been exposed
It's like you took me to school
And met me out by the bike rack
Yeah
Or stuck a pin in a doll that looked an awful lot
Like someone you had once loved
And I know you wont take it back
Take it back
You collapse
You sleep tight
How is this so easy for you?
Can't you see that you are smokin'?
How is this so easy for you?
Maybe your heart came pre-broken.
How is this so easy for you?
Maybe your heart came pre-broken
Finally got what I know is true
Because I'm the one who broke it
Credits
Chris Tindal: Lead vocals, acoustic guitar, electric guitar
Steve Salt: Backing vocals, bass, percussion (bass drum, gong and tambourine)
Words and music: Chris Tindal
Illustration: Claire Salloum
Produced by Steve Salt and Chris Tindal
Tweet