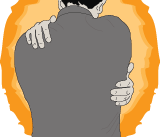 Ok you monsters. You think our last two songs have been too sad? Too slow? You say you want a "happy song?" You want us to pick up the tempo a little bit? Are you sure that's what you want? I mean are you really sure? Because you know what they say about being careful what you wish for, and, well, we sure went for it this week. Just like that.
Song

Just like that [3:34m]:
Play Now
|
Play in Popup
|
Download
Discussion
CHRIS: Yeah, so, when I finished writing this song, and as I started to record it, I hated it. The lyrics are possibly some of the laziest and most vapid I've ever written. And the music is so over-the-top trying-too-hard to be energetic it belongs in High School Musical (except that their hooks are catchier). But the motivating factor behind this song, the entire purpose, was to try and write something up-beat and lively to counteract the slow tempos of the last two weeks. And, unlike with a lot of song writing, almost the whole thing came into my head at once while I was walking to work: I heard the bass line, the "let's go," the opening guitar riff, most of the lyrics to the chorus, and "the sound" xylophone riff all at once, as if I'd heard the song before. Because, frankly, I probably have.
STEVE: It's pretty much like you don't even need an iPod any more, you could really just walk down the street and listen to your own head. This, I believe, will be an important tool for 52sp as we move into the year. You hit the nail on the head with upping the happy-factor to our releases, and while you explained the same thing as above to me before I heard your initial recording I immediately liked the song. And now the damn thing won't get out of my head.
CHRIS: Yes thanks, based on how much you like it, and some feedback from others who have heard it, I'm willing to concede that it's possible I've accidentally written a good song. But I'm still really interested to hear what everyone else thinks of this one, because, I don't know man, I go back and forth. I like listening to it now, but I remain a bit embarrassed for having penned "let's have some fun, you and me." Thank goodness you suggested changing all of the call and answer parts of the chorus to "just like that" lest we also be plagued with my original forced rhymes of "chill and slack, when you rap, rat-tat-tat, etc." Also glad you recorded some real bass to replace my cheesy-sounding synth bass (leaving only cheesy-sounding synth drums).
STEVE: Hehe, I just wanted to feel like I was a part of it all… The bass line took a little practice, it is pretty quick, but I am happy with how it turned out in the end. The call and answer change was purely an attempt to get the words "just like that" stuck in everyone's heads for the next week.
CHRIS: We can only hope it worked. Hope you like it, just like that!
STEVE: I see what you did there.
Lyrics
Let's go!
You're serving me and
I know I never have to ask for more
Finally weekend
I can't believe what we have got in store
It won't be long 'til
Once again we end up on the floor
And now we soar, be restored
Let's have some fun, you and me, just like that
So put your arms around me, just like that
You make a sound so pretty, just like that
And it goes…
I'm serving you and
I love the way you always ask for more
Like every weekend
Yeah just like it's always been before
I turn a key and
Find out that you've got a brand new door
I step inside, feel alive
Let's have some fun, you and me, just like that
So put your arms around me, just like that
You make a sound so pretty, just like that
And it goes…
We faded sedated already twice today and
Frustrated abated now
Let's have some fun, you and me, just like that
So put your arms around me, just like that
You make a sound so pretty, just like that
And it goes…
Let's have some fun, you and me, just like that
So put your arms around me, just like that
You make a sound so pretty, just like that
And it goes…
Credits
Chris Tindal: Vocals, electric guitars, piano and keyboards, drums (programmed)
Steve Salt: Vocals, bass
Words and Music: Chris Tindal
Illustration: Claire Salloum
Produced by Steve Salt and Chris Tindal
Tweet