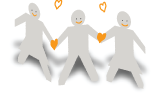 As you've likely heard by now, Valentine's Day is on Monday. The song we're releasing today, "I love you two," is our very first seasonal song, an effort to release a piece of music that's appropriate for what week it is. At the same time, we didn't want to be too boring (and we emphasize the "too" so that you're all clear we know the correct spelling of to, too and two) so we present our attempt at, yes, a polygamist's love song.
Song

I love you two [4:16m]:
Play Now
|
Play in Popup
|
Download
Discussion
CHRIS: This is the first song I've felt really self-conscious about, mostly because it's slow and kind of a downer, and last week we released Broken Organs, which I was really proud of, but which kinda fell flat with a lot of "oh…that's sad" reactions. So it's bad timing to be releasing a second slow song in a row. But at least this one is lyrically happy! Right? Hello? Are any of you still there? (Seriously though, you can always go listen to After the fall or Elisabeth again or something.)
STEVE: Yeah, I hear where those comments are coming from as well, though I must say your voices are being heard and the next few songs down the pipeline are a good deal more happy. I stand by Chris on this one though, it is timely, seasonal and it amuses me greatly. I mean, a polygamist's love song for Valentine's Day? Who knew?
CHRIS: Strangely enough, it was my wife Claire who suggested the idea for this song and then, when I got stuck on lyrics, helped write it. (This is a first in 52 song project history: a guest collaborator!) We tried to play with classic love song lyrics and make them about three people instead. I think I also subconsciously tried to write music that I thought she'd like, which is why this sounds more like the Magnetic Fields (am I right? do you hear that?) than anything else.
STEVE: Now that you mention it, yes – especially with Claire's vocals at the end. I guess I should be a little worried that Claire is going to take over from me in this project. (Though, by the looks of things, there is room for three in the songwriting process. Or something.)
CHRIS: Songwriting only, Steve. Don't push it. Finally, trivia: the lyrics in the bridge are a bit of a wink to our friends and dedicated fans John and Tasha, who got married last summer and, after saying their vows, jumped into a "just married" canoe. (More trivia! John and Tasha have been living in Egypt but left at the beginning of the current protests. John suggested in the comments of this blog two weeks ago that maybe Mubarak was getting us down. But John, speaking for myself, he has been getting me down, so maybe you're right.)
STEVE: I concur, and at time of press, things are getting sticky over there. So, with a tongue in check song to start this post, I'll end it with thoughts for our brothers and sisters in Egypt in hopes this situation ends peacefully, appropriately and soon.
Lyrics
I want to hold your hands tonight
We all have so much fun
Cuz we are one more number than
The loneliest since one
I love you and you
I'm better with two it's true
I won't say I do
Cuz I love you two
You're the first, and second, my everythings
We complement our faults
It takes two to tango
But it takes three to waltz
I love you and you
I'm better with two it's true
I won't say I do
Cuz I love you two
Maybe someday we'll get married
When you're both old and I've grown hairy
One tux, Two gowns, Three rings, Six I Do's
And we'll paddle off in one canoe
We'll paddle off in one canoe
I love you and you
I'm better with two it's true
Don't make me choose
Cuz I love you two
I love you two
And we love you too
Credits
Chris Tindal: Vocals, acoustic guitar, piano, bass and drums (programed)
Claire Salloum: Vocals
Steve Salt: Moral support
Music: Chris Tindal
Words: Chris Tindal, Claire Salloum
Illustration: Claire Salloum
Produced by Steve Salt and Chris Tindal
Tweet