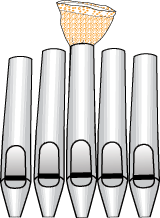 Hey, have you guys seen the movie Crazy Heart? No? Great! Here's a song that sounds nothing like every song in the movie Crazy Heart!
Song

Broken organs [4:03m]:
Play Now
|
Play in Popup
|
Download
Discussion
CHRIS: So yeah, I appear to have accidentally written a country song. And, while I didn't do this on purpose or realize it at the time, I will now humbly acknowledge that if I had not seen the movie Crazy Heart, I'd probably never have written this song (or it would have at least sounded very different).
STEVE: And now I humbly acknowledge that I have never seen the movie Crazy Heart, so I will have to sigh and enjoy this song in a completely different light.
CHRIS: We've been doing a lot of our recording in our own homes and sending the files back and forth to collaborate, but we were both in the same place to record this song. (Steve stayed over for the weekend. Hawt.) So what happened was, I recorded the guitar and lead vocals, then went to bed. Steve apparently stayed up and programmed the entire organ part (it's a virtual instrument, and he manually drew in the notes) and I woke up the next morning and was all OMGF THAT ORGAN IS SICK YO or however the kids talk these days. Steve also laid down that heartbreaking harmonica (mouth organ!) solo, so there's a lot of Steve awesome going on here.
STEVE: And, I must say, a lot of Chris awesome too as he takes full credit for "la plupart" of the song on every level. From that weekend, I also recall some delicious port. This influence, I believe, you can hear in the mouth organ as well as in the early, early morning manually programmed virtual organ addition.
CHRIS: Oh yeah! This song is totally port-powered. I also want to comment on the lyrics, especially the chorus, because (assuming you're doing this in the right order and you've already listened to the song) I don't know how they play. All I did was try and find another way of saying "my heart's broken," and the phrase that came to mind was the consequence: "my blood won't circulate anymore." When you hear that, is it obvious that's what that means? Like, too obvious? Is it corny and predictable (my fear) or does it work?
STEVE: Works for me. But I like corny.
CHRIS: You sure do, Steve. You sure do. Let's hope the people agree!
STEVE: People?
Lyrics
Like a frozen lake I can hold your weight
For just a short while longer, 'fore my skin will start to break
Then I'll pull you in and gasp with relief
Cuz having you outside me was just to much to take
Now my blood won't circulate anymore
Broken organs don't make a sound
I can be your rock if that's what I'm for
But it makes me a lousy pillow when your head goes to ground
Months and years go by and you're doing well
At least that's what you tell me when we talk from time to time
While I sit and judge and doubt from afar
As if we were prefect, as if you were ever mine
Now my blood won't circulate anymore
Broken organs don't make a sound
I can be your rock if that's what I'm for
But it makes me a lousy pillow when your head goes to ground
Yeah I'll make a lousy pillow when your head goes to ground
Credits
Chris Tindal: Lead vocals, acoustic guitar
Steve Salt: Backing vocals, harmonica, synth organ
Words and music: Chris Tindal
Illustration: Claire Salloum
Produced by Steve Salt and Chris Tindal
Tweet