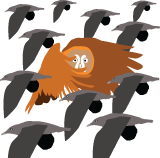 Concurrent to the progress of 52 song project, 2011 is shaping out to be a truly historic year. Canada's contribution to this story was added to last Monday as Canadians elected their first Green MP, gave NDP official opposition status, obliterated the Bloc and Liberal parties and restored the Government of Stephen Harper. In direct audio response to this Blue Monday, and in the spirit of Dylan (though not in musical style), we bring you Suburban home: sick blues.
The lyric "maybe I got on the wrong boat" reminded Claire Salloum of the Jane Smiley quote "I'm not the right bird for this flock," thus this week's illustration in the style of Charley Harper.
Song

Suburban home: sick blues [4:24m]:
Play Now
|
Play in Popup
|
Download
Discussion
CHRIS: Ok, Steve, you wrote this song, and I only heard it for the first time a few hours ago, and I love it. Really well done. Awesomeness. And yet, I'm wondering, what's it about? Did you maybe write this in the last few days? Is there a chance it's a response to something that happened, oh, I don't know, on Monday evening?
STEVE: I was a little upset on Monday evening.
CHRIS: Suburban home: sick blues. A commentary on a colour-coded election results map, PERHAPS?
STEVE: Wow, honestly, and I mean this, I didn't realise that level of the title until just now – I think it just got a whole lot better! Interestingly, I wrote the song around that title: obviously a tongue in check reference to Dylan's Subterranean Homesick Blues, and you will notice (I hope) a nod to the master in the style of the verses. I also thought it funny as in one of my past lives I lived in a suburban home. But the election reference (since yes, that is what inspired the song), pure unintended brilliance.
CHRIS: Yes, that quarter-life-crisis-trek you took out to the suburbs was a dark time. Don't do that again. Ok, next question. The lyric "silently sigh" sounds a lot like "silent Leaside," a reference to the Toronto neighbourhood where our current prime minister grew up, PERHAPS?
STEVE: … this keeps getting better… accidentally. I did try to work in a lot of word play and double entendre (said with a French accent), but I think I may be enjoying your interpretations even more than the song itself… more?
CHRIS: I'm starting to think Raine Maida may have been onto something when he suggested space aliens influenced his lyrics. You seem to have had a similar experience. Also, your French accent sounds a bit strange. Where is it from? A result of the time you spent living abroad, PERHAPS?
STEVE: … I admit, it is Swazi French… the rural Mbabane dialect of which is especially hard to understand. And non-existent. I digress. (Drink!) This is another song where, just as I was about to start recording an old one I'd written, the title, music and lyrics (in that order) came to me in a little under an hour. And I think it is much better than the one I'd been working on for a few months. Strange. Space aliens?
CHRIS: It's the only rational explanation. Well, I'm glad this song decided to introduce itself to you, first, and then to the rest of us. And thanks for letting me sing the chorus! It was fun to do and I like when we trade choruses and verses back and forth.
STEVE: Agreed. Imma justa bouta go listen to that now and polish it off! Here's to four more years to prove me wrong or drown a little.
CHRIS: Never before have I wanted you to be wrong so badly. Ok folks, be sure to tune in next week for Song 19: Thinka Drinka 2: Imma Justa Bouta. Goodnight!
STEVE: And so it is, Chris, and so it is.
Lyrics
Uh oh four more
Make love not war
Good buy sell sell
Hello all hell
Rich get richer
Poor get what for
I want one too
Three four breathe
See the trees die
Silently sigh
Oh yes, what mess?
Oh no, distress!
I have no dough
I am rich though
Flares in my head
I'm swimming in
Save our souls! This ship is sinking
Save our souls! It's got me thinking
Maybe I got on the wrong boat
Switch
Because I do not even remotely
Fit in
Save our souls! This ship is sinking now
Smoke inhaling
Toxic bathing
Sun is burning
World keeps turning
After we're gone
Nature lives on
And it's won too
Three four breathe
Something's wrong for
All my neighbours
To keep cheering
Hate and fearing
Where's the justice?
Raise your voices!
Preach love not hate
Let's sublimate
Ess! Oh! Ess!
Credits
Chris Tindal: Vocals
Steve Salt: Vocals, electric guitars, bass, programmed drums and piano
Words and Music: Steve Salt
Illustration: Claire Salloum
Produced by Steve Salt and Chris Tindal
Tweet