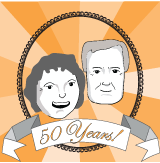 Tomorrow night in Sault Ste. Marie Ontario, George and Betty Ann will gather with friends and family to celebrate 50 years of marriage. Their son Jason asked if we'd write them a song for the occasion, and provided both biographical detail and music style preference. This recording is the result, and we're told the plan is that they'll be surprised with and dance to this song tomorrow evening. For once, we don't care what you, random listener, think. We just really really really hope George and Betty Ann like it.
Song

George and Betty Ann [4:08m]:
Play Now
|
Play in Popup
|
Download
Discussion
[Thursday night]
STEVE at 4:34pm: All right, just added some vocal layers, a guitar and an organ to the mix in a french classroom at my school. I am not a huge fan of country.
STEVE at 6:07pm: Terribly hungry, gotta go eat dinner.
STEVE at 7:19pm: Suddenly I can't stop listening to this song. Well written, Chris.
STEVE at 8:41pm: Still listening. Strange. Again, not a big country boy. Hardly a city boy either though. A world boy? I (always) digress. On this song, and I will let Chris explain more, but we were essentially commissioned to write a "slow danceable country song" for a friend's parents' 50th (!!!) wedding anniversary. Chris stepped up to the challenge and I must say stepped up to it well.
STEVE at 9:22pm: A conversation with my girlfriend puts it best… her: "made me have a tear when I was picturing 2 cute elder people dancing to the song. They will feel so special to have that". Me: "I know right? It is nice to think of that". Her: "Yeah, they will be so honoured and will never forget it!" Me: "I think we are the ones who are honoured."
STEVE at 9:42pm: Heck of a thing being married for 50 years. And, after the last conversation, all I can do is picture this song mingling with a couple dancing with each other swirled around by 50 years of the memories that brought them there.
STEVE at 10:12pm: Chris is out watching Alex Tindal in a show called Feint of Hart. I saw the last one. Very funny. He should be back by midnight, so he'll tell you more about the song then. Hopefully I will still be up too! He hasn't heard the final mix of the song yet…
[Friday morning]
CHRIS at 12:50am: Steve is not still up, but did excellent work adding the backing vocals, lead guitar and organ, which I just heard for the first time. When I previously claimed that Broken organs was a country song many of you disagreed with me, and now I get why. This is way more of a country song (though still written by someone who doesn't really know the genre). I don't know what else to say. I just really hope they like it.
Lyrics
From the winter of '60 'til 50 years ago today
Who could have guessed it? If asked, who'd have known what to say?
And selling that red and black car gosh that had to be tough
Still that was the year that he got his BA in love
It took 50 years to get here
Twists and turns never part of the plan
But life's better together and their love is true
That's you, George and Betty Ann

No one quite gets what is meant by "in sickness and health"
'Til they put in the work, stick it through, build up strength in and out
The sky was so blue those days in the Sault and there've been clouds and lighting storms too
But they said "the rain can't hurt me when I'm with you."
It took 50 years to get here
Twists and turns never part of the plan
But life's better together and their love is true
That's you, George and Betty Ann

Now a family of children all grand and some even great
A lifetime of love and hard work trumping doubt fear and hate
There is no question that it's been a hell of a ride
Your family and friends feel lucky to have been by your side
It took 50 years to get here
Twists and turns never part of the plan
But life's better together and their love is true
That's you, George and Betty Ann
That's you, George and Betty Ann
Credits
Chris Tindal: Vocals, acoustic guitar, bass (keyboard) and drums (programmed)
Steve Salt: Backing vocals, programmed organ, lead guitar
Words and Music: Chris Tindal
Illustration: Claire Salloum
Produced by Steve Salt and Chris Tindal
Tweet