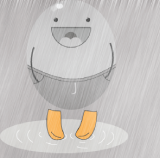 For two white, middle-class (middle-aged? No… not yet, right?) men, we are hoping this offering strikes somewhere on the reggae pendulum around 311 but well below Bob Marley. A gender-specific (but not exclusive) song about strength, confidence, adversity and rain storms, we hope to convey a message of strength: don't give up.
Song

You are your own raincoat [4:29m]:
Play Now
|
Play in Popup
|
Download
Discussion
CHRIS: Usually we write these blog posts together Thursday evening, but I haven't heard from Steve all day, and I'm getting pretty sleepy (I was up late last night at a no-pants party — true story) so I'm not sure what to do.
FAKE STEVE: Maybe I can help!
CHRIS: Oh, hey Fake Steve! Yeah, that'd be great, because I don't know where real Steve is and the show must go on.
FAKE STEVE: No problem, I can probably do a pretty good impression of "real" Steve. Here we go. This is the first reggae song I've ever written, so that makes me very nervous. But I think I do like the way it finally came together.
CHRIS: Yeah, me too. I really love the backup vocal hits in the chorus, and the horn parts. A very different feel from anything else we've done so far, which is great because otherwise this would be getting boring.
FAKE STEVE: And hey, this is song 13, which means we're exactly ¼ done! So later this week we should maybe do some blogging looking back on the first 25% of 52 song project and talking about the next 75% to come. Also, though, speaking of boring, THIS CONVERSATION, AMIRITE? So maybe we should just leave it here, and hope that Real Steve will find this post and pick it up from here.
CHRIS: Yeah, good call. Goodnight Fake Steve!
FAKE STEVE: Goodnight Chris!
[Several hours later…]
STEVE: Yes, my bad… I have several friends who are convinced that I hibernate. Perhaps this is true, perhaps this is true.
FAKE CHRIS: Where the heck were you? I'm not even here any more! Sheesh.
STEVE: At some point, I think we would all like to know a little more about this no-pants party, but until that point, yes, my first reggae song. And yes I am a little nervous about it. I was a little shaky on the chorus vocals, but my throat is a little sore and I had to just call it a day.
FAKE CHRIS: Me too.
STEVE: And so, I will call it a day.
Lyrics
Don't cry girl
Just try to smile girl
You're so much better than they know
See through the lies girl
Don't let them hide your
Beauty, the world needs it to show
The woman in
The mirror is
Strong
So take that strength and break the walls
[So with your strength you can break
All the walls that they can make]
Wear it as a raincoat through this storm
[Your light will shine through the clouds
You will make up from the down]
Your light will shine through the clouds
So far away dear
I just want you near
It's awfully hard to hug you through the phone
Maybe one tear can
Come down the line and
Soak itself into my shoulder bone
The woman in
The mirror is
Strong
So take that strength and break the walls
[So with your strength you can break
All the walls that they can make]
Wear it as a raincoat through this storm
[Your light will shine through the clouds
You will make up from the down]
Your light will shine through the clouds
Your time will come
Of that I'm sure
It takes a few waves
For a coconut to float to the shore
The woman in
The mirror is
Strong
So take that strength and break the walls
[So with your strength you can break
All the walls that they can make]
Wear it as a raincoat through this storm
[Your light will shine through the clouds
You will make up from the down]
Your light will shine through the clouds
Don't cry girl
Just try to smile girl
You're so much better than they know
Credits
Chris Tindal: is awesome
Steve Salt: Vocals, guitars, bass, programmed instruments (trombone, trumpet, organ and percussion)
Words and Music: Steve Salt
Illustration: Claire Salloum
Produced by Steve Salt and Chris Tindal
Tweet