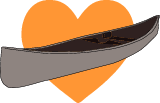 My best friends got engaged on the Victoria Day long weekend some time ago. It was at a very exceptional place, suitable for the pair who carry that same property. This week's song is an attempt to say thank you to these two friends who always support me, and a nod at how powerful and commendable their bond is through many thicks and many thins. It is a bit of a raw tune – hope you like it. Thanks, Chris and Claire.
Song

Tribute:
Play Now
|
Play in Popup
|
Download
Discussion
This is Steve. I got an e-mail from Chris at just after midnight of Thursday/Friday asking whether I was taking care of this week's song. And yes, I am. You see, last week Chris did the whole thing. I didn't really touch Another monster. (I really quite liked it though). Chris does a lot of things to help me out, to support me, and to inspire me. This got me to reminiscing about the time Chris asked Claire to marry him, out in a canoe, in the middle of a lake. They came and told me about it afterward, I was situated on the south shore of the lake at the time.
So I wrote about it.
The result, evidently, is an acapella attempt at thanking Chris and Claire, and acknowledging their friendship – we don't often get a chance to do so. Claire caught wind that this was the subject of the song and so she was still able to do her weekly illustration, however I think it might be a bit of a surprise to Chris.
I like surprises.
Thanks.
Lyrics
There you are
And there you both stand
On the south shore
Grasping hands
Like hours before
In a second it has changed
From the depths of my valleys I say thank you
Screaming from my peaks I thank you
I keep on singing and you are my reason to
And I keep singing, thank you
Years apart
Before you both met
And months afar
Before it was set
A night with two stars
In a second it has changed
I will be there for you
You are my rock
You both are my constants
The keys to my lock
In haste and in absence
You're my clock
And the second hand has changed
Credits
Chris Tindal & Claire Salloum: Thanks. You guys are awesome
Steve Salt: Vocals x 8, programmed organ and strings
Words and music: Steve Salt
Illustration: Claire Salloum
Tweet