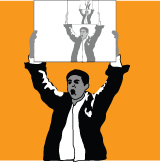 Ok, this was rushed and is sloppy. The song was written Wednesday and recorded Thursday night. At 1 a.m. Thursday night/Friday morning, we were too lazy to write a blog post, so we shot a video blog instead. Then we didn't sleep, because we needed to upload the video and post it this morning. And now it's morning and the words and the brain aren't working so um, here.
Song

Protest song [3:58m]:
Play Now
|
Play in Popup
|
Download
Video blog
The clock on the bottom of the computer screen says 1:22am. It is Friday. In lieu of typing our discussion posting this week, we thought it would be different… nay, more expedient… to post in the form of a video. For better or for worse. And thus:
Bonus behind-the-scenes video!
Lyrics
We need a spotlight
we need some disinfectant and we might
show up to the fight
or might not, depends on how we fell that night
we might just stay at home
watch tv and wonder stupid questions like
where is my protest
where is my protest
where is my protest song
you got all the notes
you got all the words
but baby the soul was wrong
we need a sea change
we need to swamp an ocean liner
no point in minor
changes, it might as well just stay the same
as if we'd stayed at home
and backed out of gaining the worst kind of fame
where is my protest
where is my protest
where is my protest song
you got all the notes
you got all the words
but baby the soul was wrong
we need a big shift
a paradigm caps-lock but only if
you're ready to make it
you gotta give at least a little shit
and don't just stay at home
this life's exactly what you make of it
where is my protest
where is my protest
where is my protest song
you got all the notes
you got all the words
but damnit the soul was wrong
(i guess) you should have stayed at home
(i'm still asking) where are my protest songs
we are the spotlight
we are the ones that we've been waiting for
Credits
Chris Tindal: Vocals, guitar, piano, lead claps
Steve Salt: Backing vocals, backing claps
Words and Music: Chris Tindal
Illustration: Claire Salloum
Videography: Claire Salloum
Produced by Steve Salt and Chris Tindal
Tweet