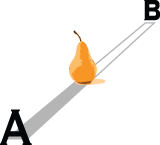 Today is Canada Day! Yay! Happy Canada Day, everybody! On this special occasion, we're very happy to present a song about… ourselves! Because we forgot it was Canada Day when we were working on the song this week! And instead we remembered that this week is actually the halfway mark in our 52 song project! And we got excited about it and wanted to use a lot of exclamation marks! Like MAD Magazine! We'll stop doing that if you keep reading after the song, we promise! Also, Claire heard our song was called Halfway there, and she decided to draw a Halfway pear! Because she's so punny!
Song

Halfway there [2:29m]:
Play Now
|
Play in Popup
|
Download
Discussion
CHRIS: Steve is in Bulgaria. And I think he said he was going to write something for this before he left, but I can't find it anywhere, so I'm sorry if he wanted to share some words of wisdom with you and I messed it up. Anyway, we worked on this song together before he left in a fashion similar to what we originally envisioned with this project: I sent him a half-finished song on Monday night, he finished writing it and sent it back with added instruments, and I polished it off. Then I got really drunk. Then I woke up early this morning to post it before 9 a.m. because I respect you. All according to plan.
This recording isn't exactly how I heard it in my head. I wanted it bigger, with more of a build, and giant booming drums at the end. And I wish there were more real instruments, because all of the virtual ones together lack authenticity and energy. But we don't have a lot of giant booming instruments, or a lot of time, so I'm happy with this as a first pass. Hopefully, if we get to revisit some of these songs at the end and create some better recordings, this is one of the ones we can upgrade.
You guys haven't been commenting as much recently, so let us know what you think! We're halfway there! (Oh sorry, there are those exclamation marks again. I'm just so excited!) How are y'all enjoying the project? What are your faves so far?
Lyrics
We're halfway there
Good time to recharge and repair
Behind us our friends said 'good luck and take care'
Now we're halfway there
We're halfway there
Directly above, the sun glares
When thoughts turn to you it's just too much to bare
We're halfway there
But we've got it all
Get up out of the dirt, get your back off the wall
Got it all
Thankful and never to fall
We're halfway there
And it is alright to be scared
Because what's ahead's a preposterous dare
And we're not prepared
But we've got it all
Get up out of the dirt, get your back off the wall
Got it all
Thankful and never to fall
Gonna make them proud
Gonna take my head out of this cloud
It's the same distance back if we turn around now
Gotta make it somehow
But we've got it all
Get up out of the dirt, get your back off the wall
Got it all
Thankful and never to fall
Credits
Music: Chris Tindal
Words: Steve Salt, Chris Tindal
Chris Tindal: Vocals, programmed drums
Steve Salt: Vocals, programmed organ, brass, piano, a whole bunch of other crazy crap
Claire Salloum: Halfway pear
Tweet