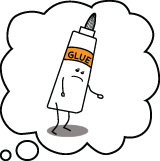 If we were all to get together and decide on one thing that 52 song project has not had enough of, I'm pretty sure we would all simultaneously blurt out "cocky swagger." Cocky swagger is what makes music groove, makes it fun to dance to, and is also one of the leading causes of teen pregnancy. So here, in the rushed and rough fashion that has become our custom over these past few weeks, is an attempt to remedy that situation. (And if you're here looking for information about the Buffy episode of the same name, I'm sorry, all they have in common is music.)
Song

Once more, with feeling [2:26m]:
Play Now
|
Play in Popup
|
Download
Discussion
CHRIS: Oh boy, nothing went right when trying to record this song. Since it has a big sound, I would have liked to add some bass and drums. But as I explained last week, I've just moved (recording this song first involved finding and unpacking all my gear) and I've been on my own with this project for about a month while Steve does summer things and tries to fix his computer. (Let me tell you: writing and recording a song every two weeks is way easier than every week.)
Then, when I finally sit down to record this, I'm just getting through the first take of the guitar track and thinking to myself "well that was pretty rough, better do that again," when I break a string. And it's late, and I don't have any more strings, and music stores are all closed. So that's why the guitar suddenly goes all Nine Inch Nails for the last few bars, and why it's not as tight as it should be throughout.
I'm finding it harder and harder to predict what you'll think of these recordings. This one, I think, will be mixed. I really like the song, but some wont, and I also think the recording leaves something to be desired. File this under "songs I'd like to try recording again someday."
Oh, and don't worry, Steve's allegedly back next week.
Lyrics
I've got a feeling that you might miss me
I've got a feeling that I'm stuck in your memory
I've got a feeling that you're feeling lonely
And that you're pining for the days when it was just you and me
It goes on and on and on
And we go on and on and on
I got a feeling that you wanna lean in
I got a feeling that you wanna let me in
I got a feeling that you want to begin
To unravel all that nuisance that's protecting your skin
It goes on and on and on
And we go on and on and on
I've got a feeling that you might miss me
I've got a feeling that I'm stuck in your memory
It goes on and on and on
And we go on and on and on
Credits
Words and music: Chris Tindal
Chris Tindal: Guitar and vocals
Steve Salt: Never stops with the swagger
Claire Salloum: Illustration, obscure puns
Tweet