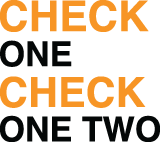 Hi! Chris here. I don't know what you'll think of this one. I've been working on it for a few years, actually using it to soundcheck at the start of shows, but I've never recorded it. I spent the last few days in Montreal on business, just returning last night, so I needed to crank this out quickly on Tuesday night. I think it's kinda cool that it doesn't really sound like anything else we've done. When recording it, I pictured myself standing on a large outdoor stage looking out into a huge, empty field. Maybe that'll be the music video.
Song

Soundcheck [3:21m]:
Play Now
|
Play in Popup
|
Download
(10306)
Discussion
CHRIS: It's too hot.
Also, Steve says song 28 is still on its way. He's still having computer problems. He's sorry. We're all sorry. We'll make it up to you, we promise.
Lyrics
This is a soundcheck, can you hear me yet?
Can you smell me on the air like a cigarette?
Uh huh
This is a mic check, do we have speed on the decks?
Can you check the intonation of my guitar's frets?
Uh huh
Don't take this so seriously
I'm just warming up
There's more to come just wait and see
Or am I giving up?
Credits
Words and music: Chris Tindal
Chris Tindal: Guitar and vocals
Steve Salt: Roadie
Claire Salloum: Groupie
Tweet